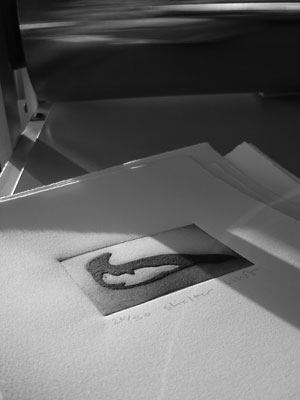 Welcome
Rockport, Maine | (207) 596-3449
"Few inventions in the history of civilization have played such a key role in the evolution of thought as the development of printed images"
-from Printmaking; Saff & Sacilotto
Greetings from the coast of Maine- We are settled in at the home studio here in Rockport for the foreseeable future as a result of the Covid-19 pandemic. It's such an unsettled time, both physically and emotionally, but I'm trying to enjoy the slower pace of our days and pay attention to the beauty of the forest around our home. New editions are coming out of the studio, and I look forward to the opportunity to share them with you in the future.
At the present time, the galleries that carry my work are closed, and all festivals are cancelled or postponed until later in the year.  We are able to ship work worldwide from phone orders, and will happily take your calls here at the studio.  I am truly looking forward to the day when we can gather together again and remain hopeful that it will not be too long.
Sending you all best wishes for health and safety during these unprecedented days.
Be Well,
Kathleen