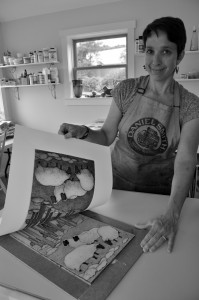 I have had a lifelong interest in creating art.  My path to becoming a working artist is perhaps somewhat atypical- I was educated and employed as a biologist prior becoming a full-time printmaker in 1999.  As an undergraduate at Tufts University, I majored in biology and nurtured my creative skills with as many studio art courses as I could possibly fit into my schedule.  After graduation in 1993, I worked in the consulting field for a few years before heading off to graduate school.  It was while completing my master's degree in wildlife biology at the University of Alaska that I decided to renew my efforts at studio art and printmaking in particular.  At first glance, biology and printmaking seem to have little common ground, but much of my training as a scientist has served me extremely well as an artist.  Both disciplines require skill at observing the environment, at not only looking but seeing what is going on around you.  I look at biology and art as two dialects in the same language, different ways to communicate what you have learned about the nature of things, about the truth of your experience.
I am constantly inspired by the area where I live- the coast of Maine always reinvents itself with ever-changing ocean and sky, and seasons which each have grace and character all their own.  My two children fuel the creative process by reminding me to engage the world with a sense of newness and discovery.  In addition, music and poetry influence my work and fill my studio at all times.  I look to the work of Rockwell Kent, Sabra Field, Christy Moore, and Billy Collins for guidance and energy to keep creating.
As an artist, I am fascinated by relationships.  My connection to the natural world, my role as a mother, and my own sense of self all find expression in my images.  I enjoy looking at landscapes and their inhabitants not only as appealing composition subjects, but also as metaphors for our human experience.  Collagraph printing, with all its intricacy and subtlety, is a fascinating medium to use in the communication of these ideas.