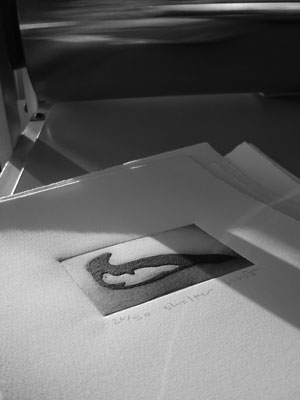 Welcome
Thomaston, Maine | (207) 354-8168
"Few inventions in the history of civilization have played such a key role in the evolution of thought as the development of printed images"
-from Printmaking; Saff & Sacilotto
Thank you for visiting the Grey Seal Press website, your resource for information about my work.  Here you will find details regarding available images (Gallery), and specifics of the methods and materials used to create a collagraph print (The Process).
I've got a busy schedule of gallery exhibits and art festivals planned for 2013, and I am looking forward to visiting some new venues this year in Connecticut and New York (see Purchasing).  Fall also brings a handful of interesting speaking engagements- Pecha Kucha in Camden, ME, a gallery talk at 13 Forest in Arlington, MA and Artists on Art at the Farnsworth Museum in Rockland, ME.  In between all the events I'm hoping to spend some time in coastal Quebec working on designs and generally recharging the creative batteries.  I look forward to sharing new images with you as they come off the press in coming months.
As always, feel free to give me a call (207.354.8168) or email (kwb
greysealpress
com ) with questions about my work or classes.  Keep in touch via the website, or check out what's new in the studio at www.facebook.com/greysealpress.
Cheers,
Kathleen