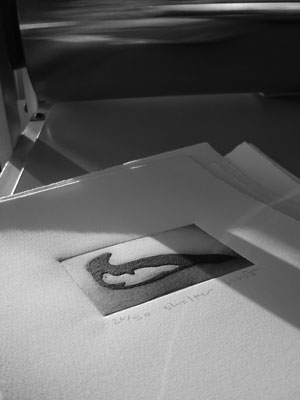 Welcome
Thomaston, Maine | (207) 354-8168
"Few inventions in the history of civilization have played such a key role in the evolution of thought as the development of printed images"
-from Printmaking; Saff & Sacilotto
Thank you for visiting the Grey Seal Press website, your resource for information about my work.  Here you will find details regarding available images (Gallery), and specifics of the methods and materials used to create a collagraph print (The Process).
I've got a busy schedule of gallery exhibits and art festivals planned for 2015, and I am looking forward to visiting some new venues this year in northern New England.  I will be teaching a weekend long workshop in collagraphs on May 2/3, 2015 at Sweet Tree Arts in Hope, ME.  The studios there are a great space to work in, and I look forward to welcoming spring with a weekend of creative printmaking!  The workshop is open to printmakers of all abilities, including those who have never tried this amazing medium before. Registration is through their website, sweettreearts.org.
New editions are underway here at my studio, and as always I look forward to sharing new images with you as they come off the press in the next few months.  I am looking forward to warmer days and getting out onto the water for some inspiration-
As always, feel free to give me a call (207.354.8168) or email (kwb
greysealpress
com ) with questions about my work or classes.  Keep in touch via the website, or check out what's new in the studio at www.facebook.com/greysealpress.
Cheers,
Kathleen