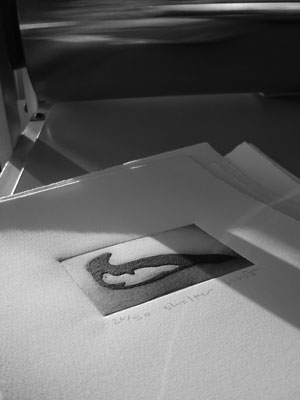 Welcome
Rockport, Maine | (207) 596-3449
"Few inventions in the history of civilization have played such a key role in the evolution of thought as the development of printed images"
-from Printmaking; Saff & Sacilotto
We are off to a busy 2017 here in the studio- several new editions are coming together as we gear up for the busy summer months here on the coast of Maine.  I am excited about much of this new work- I've been trying some new techniques in my plate construction, and am really pleased with the results.  It feels good to take the time to experiment and stretch a bit, and I am looking forward to sharing the results with all of you soon. There's been some changes to my usual schedule of shows and festivals for 2017, so please check out the Purchasing page for where you can find my work this year.  I have a solo show opening on May 19, 2017 at the Green Lion Gallery in Bath, ME which will be a great place to check out my new editions. The opening reception will be part of the Bath Artwalk on Friday May 19, from 5-7 pm. I hope to see you there!
As always, if you are visiting the midcoast, you are welcome to come by the studio by appointment.  Feel free to give me a call (207.596.3449) or email (kwb
greysealpress
com ) with questions about my work, classes, or dropping by.  Keep in touch, and check out what's new in the studio at www.facebook.com/greysealpress.  Hope to cross paths with you sometime soon.
Cheers,
Kathleen