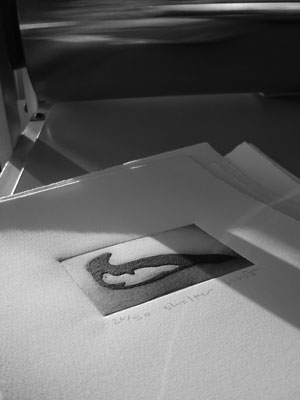 Welcome
Thomaston, Maine | (207) 354-8168
"Few inventions in the history of civilization have played such a key role in the evolution of thought as the development of printed images"
-from Printmaking; Saff & Sacilotto
Thank you for visiting the Grey Seal Press website, your resource for information about my work.  Here you will find details regarding available images (Gallery), and specifics of the methods and materials used to create a collagraph print (The Process).
I am winding down a busy and successful 2012 with a show at the Firehouse Center for the Arts in Newburyport, MA.  "Stone, Sea, Sky" will hang through the end of the year, with an opening reception on Saturday December 8th, 4-6pm.  Stop in and say hello if you are in the area-  Newburyport is a lovely place to visit during the holiday season.
Early in 2013 I will be moving my studio from the space we have occupied in Thomaston, ME for the past 9 years to the Sweetland Art Center in Hope, ME.  Currently under construction, the building is a bright, beautiful timber frame structure in a unique creative community.  My studio will occupy two rooms on the upper level of the center, with additional space for teaching workshops in the building.  I am currently scheduled to teach a weekend-long collagraph workshop on April 20-21, 2013.  More details regarding times and registration to come soon.  If you're interested, please keep the date free!  As always, all levels of experience (including none) are welcome.  These weekends are generally a wonderful way to try something new, connect with your creative self, and enjoy the company of new and old friends.  I hope that you will consider joining us!
As always, feel free to give me a call (207.354.8168) or email (kwb
greysealpress
com ) with questions about my work or classes.  Keep in touch via the website, or check out what's new in the studio at www.facebook.com/greysealpress.
Cheers,
Kathleen