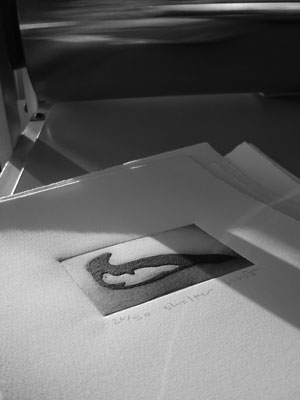 Welcome
Rockport, Maine | (207) 596-3449
"Few inventions in the history of civilization have played such a key role in the evolution of thought as the development of printed images"
-from Printmaking; Saff & Sacilotto
2016 has been a busy year full of change for me- we are finally (after multiple moves) settled into my new studio space in Rockport, Maine.  Everything is in high gear through the summer months, with new editions being printed and exhibited throughout New England. Included in the mix are some new collagraphs completed during my residency at the Ballinglen Art Foundation (County Mayo, Ireland) this past winter.  More images from both Ireland and Maine are in the works- I anticipate that I will continue to roll out new designs through the fall, so keep checking in here.  As usual for this time of year, I have a full schedule of art festivals and gallery exhibits planned that will extend well into the fall- check out the purchasing page for all the details.
Feel free to give me a call (207.596.3449) or email (kwb
greysealpress
com ) with questions about my work or classes.  Keep in touch, and check out what's new in the studio at www.facebook.com/greysealpress.  Hope to cross paths with you sometime soon.
Cheers,
Kathleen